Gathering user data is general practice in modern websites and applications. For business, it is very important to collect the user's data or leads. Collecting proper information and using it cleverly can give associations an edge over competitors and increase the impact of limited resources.
You can collect user's data or leads in 3 ways by using the MarketiBot inside Facebook Messenger with Messenger bot. We will look into all the options we can use to collect user's data using MarketiBot.
Quick Reply:
Quick replies are prior formatted answers you set up and then insert into a direct message to avoid having to type the same answer time and time again to different people. You can also use quick reply to collect users Email, phone. I will explain how you can do that by using MarketiBot.
Quick Reply in Messenger, will just look like the below image: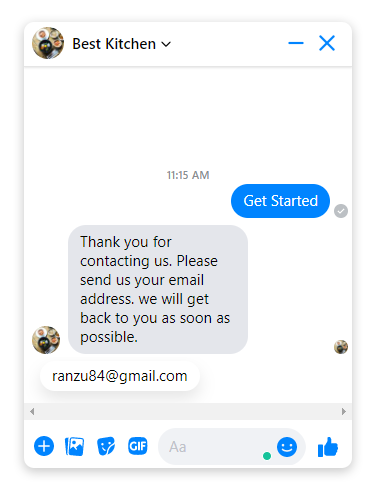 From the dashboard of MarketiBot go to Messenger Bot > Bot Settings
Now select your Facebook page for which you want to create a quick reply. By default, Bot Reply Settings is selected. Click on Add bot reply.
Give a bot name, write keywords for which this bot reply will trigger. Then select reply type to "Quick Reply" from the drop-down list. Write your message on the Message box, after that select the "Button Type" to User-email address, for email and user phone number to collect phone number. Don't type anything on "Button Text", it's already disabled for Quick Reply. Then click Submit to save the reply.
Web View:
We can also collect user's data like email or phone number using a web view form. Clients will see a web view form to enter their email or phone number.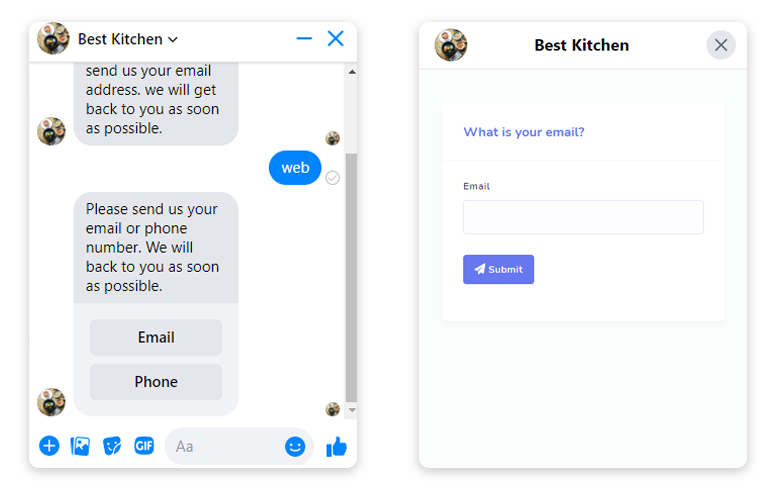 The process of creating a "web view form" for the user's email or phone number is almost the same as the Quick reply, just change the "Select reply type" to Text with buttons instead of Quick reply. And then select the Button type to User's email and give a name for the button on the Button Text field. You can also select User's phone to collect a phone number and a user's location by selecting the User's location as the Button type. Click on Submit to save the Reply template.